I make paintings and installations that reference vernacular photography from the 1970s to the present day. In my paintings of oil on wood, canvas, Plexi-glass and mylar, I investigate snapshots found in discarded photo albums. Although the era of analog photo collecting in popular culture is mostly over, I am interested in both the emotional connection and cultural impact of photo collecting.​


---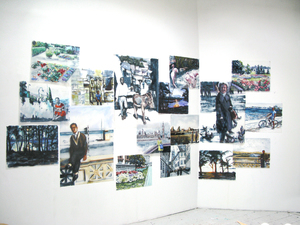 World Traveler / Shelter at Home
Project In Progress--World Traveler / Shelter at Home Installation
After a few feverish nights with the Covid virus an idea for a series came to me. World Traveler/Shelter at Home. A few years ago a friend gave me 27 boxes of slides found in an Asbury Park thrift store. These images documented one person's World Travels. I felt this was the time to immerse myself --painting images of far flung adventures as I shelter at home.
Dimensions vary-- oil on mylar with reverse painting.
---

New Orleans World's Fair Installation
The New Orleans World's Fair Installation references snapshots I found in a Louisiana thrift store. (23 panels of oil on Plexi glass on shelves). The plexi-glass panels include both reverse and direct painting in oil and acrylic.
My installation explores one individual's memory of a day at the fair; as well as a look back at the now obsolete cultural phenomenon of World Expositions.
---

The New Orleans World Fair Paintings
These paintings are a continuation of my New Orleans World's fair series. Painted on plexi glass with reverse painting, each panel focuses on zoomed in details of the found snap-shots.

---

Fan Album--paintings
I found in a NYC thrift store a fan album of more than 100 early snapshots of the band Menudo. One young girl had lovingly collected all of the snapshots and painstakenly arranged them. I was intrigued by her devotion as well as the vibrant images of the young band members.
As a homage to both the young fan and the band, I completed an installation of oil and mylar paintings as well as more than a dozen paintings on canvas that refer to the found snapshots. By exploring one young fan's album of the band, the strong cultural impact of band in 80's and 90's is revealed. 2013-16


---

Fan Album --works on mylar
Fan snapshots of a 1980's Boy Band found in a thrift store album, are the focus of this painting series. Oil on mylar. 2012-13
---

Galactic 99 Installation
Galactic 99 is painting installation of 99 shaped panels of oil on wood and plexi. Both Galactic 99 installation and the Blue Screen series of paintings reference snapshots of workers that I found taped to the wall of a pizzeria. In this series I investigate the role of the individual with in a group—studying how, in life, people come together randomly, interact and become close knit community. 2010-13
---

Blue Screen Series- Paintings
Blue Screen Series are 19 paintings that reference photos found on the wall of a Pizzeria. The Galactic 99 installation and the Blue Screen series of paintings reference snapshots of workers that I found taped to the wall of a pizzeria. 2009-2012
---

Baton Rouge Polaroids
Baton Rouge Polaroids Paintings. I found loose Polaroids in a thrift store box in Baton Rouge. By pairing images in diptychs I invent narratives and create connections between the seemingly unrelated images. 2010-11
---

1970s Eyeshadow Series
1970s Eyeshadow Series A group of unique ink jet transfer prints--drawn from photos in an album found at the Chelsea Flea Market. 2007-2008
---

New York Story
New York Story This project's source is an album found in the Chelsea Flea Market containing snapshots of a group of 1970's era friends at a party. 25 shaped paintings. 2005-2006
---

Group Shot Italy 1972
Group Shot Italy 1972
An installation of 40 shaped panel paintings, referencing a family group photo found in the Rome flea market.
2007-2008
---